Frequently Asked Questions – FAQ
---
What is the Cannabinoid Basic Analysis?
With the Cannabinoid Basic Analysis , we quickly, cost-efficiently, and reliably analyze samples containing only natural cannabinoids (phytocannabinoids) found in plants. (CBD, CBDA, Δ8-THC, Δ9-THC, THCA, CBG, CBGA, CBC, CBN, THCV, CBDV, CBDVA).
Cannabinoid Basic Analysis is the method of choice for plants, extracts, broad and full spectrum oils, resins and distillates.
---
Which cannabinoids are tested in the Cannabinoid Basic Analysis?
CBD

Cannabidiol

CBDA

Cannabidiolic acid

Δ8-THC

D9-Tetrahydrocannabinol

Δ9-THC

Tetrahydrocannabinolic acid

THCA

D8-Tetrahydrocannabinol

CBG

Cannabigerol

CBGA

Cannabigerolic acid

CBC

Cannabinol

CBN

Cannabichromene

THCV

Cannabidivarin

CBDV

Cannabidivarinic acid

CBDVA

Tetrahydrocannabivarin
---
What is the Cannabinoid Advanced Analysis?
With the Cannabinoid Advanced Analysis the sample undergoes special preparation procedures. It is then analyzed using several state-of-the-art methods (HPLC-DAD, GC-FID/MS and, if necessary, mass spectrometry). In the process, we quantitatively test the sample for over 20 different natural and synthetic cannabinoids and compare the sample's molecular patterns (mass spectra) with international research databases for well over 10.000 known compounds.
The IFHA's Cannabinoid Advanced Analysis is the most comprehensive analysis for cannabinoids available in Europe and is suitable for all sample materials and all questions. Furthermore, we analyze special sample materials and conversion products exclusively according to the procedures of the Cannabinoid Advanced Analysis..
---
Which cannabinoids are tested in the Cannabinoid Advanced Analysis?
CBD

Cannabidiol

CBDA

Cannabidiolic acid

Δ9-THC

D9-Tetrahydrocannabinol

THCA

Tetrahydrocannabinolic acid

Δ8-THC

D8-Tetrahydrocannabinol

CBG

Cannabigerol

CBGA

Cannabigerolic acid

CBN

Cannabinol

CBNA

Cannabinolic acid

CBC

Cannabichromene

CBCA

Cannabichromenic acid

CBDV

Cannabidivarin

CBDVA

Cannabidivarinic acid

CBL

Cannabicyclol

CBLA

Cannabicyclolic acid

THCV

Tetrahydrocannabivarin

THCVA

Tetrahydrocannabivarinic acid

HHC

Hexahydrocannabinol*

HHCP

Hexahydrocannabiphorol*

CBE

Cannabielsoin

H4CBD

Tetrahydrocannabidiol*

CBNO

Cannabinol Acetate

CBND

Cannabinodiol
---
What are conversion products?
"Conversion products" are hemp products that contain synthetic cannabinoids such as HHC, H4CBD, THCO, CBND, etc., besides naturally occurring cannabinoids such as CBD, CBG, THC and others. Almost always, the "conversion" of herbal to (semi)-synthetic cannabinoids also results in undesirable by-products, which are then contained in the finished product for sale. For these "conversion products," we have developed special processing and measuring methods that are applied in the Cannabinoid Advanced Analysis. This way, we ensure the integrity of our measured values and confirm the parameters that are decisive for the legality of a product (e.g., Δ9-THC) with several analytical methods.
---
What are special sample materials?
"Special sample materials" are samples that require a more complex sample processing due to their ingredients. Cosmetics, edibles, beverages and vape pens need special treatment, such as the separation of polysaccharides and other long-chain molecules, alternative homogenization, residue recovery from cartridges, etc.
In our test procedure, Cannabinoid Advanced Analysis these samples are subjected to a unique, adapted preparation for cannabinoid analysis.
---
How do I send in my samples?
You can send us your sample using our CannaCheck-Box. By purchasing the box you have already paid for the analysis and can use it to send in your sample comfortably by mail.
---
Examples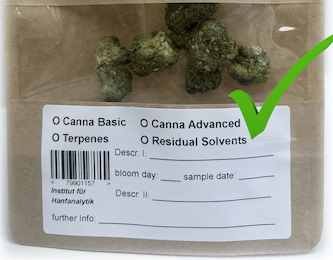 Put flowers and plant parts directly into the transport bag.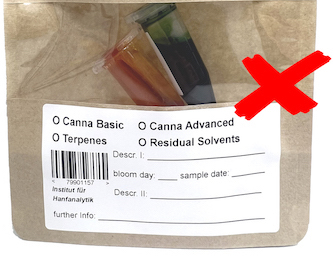 Put only one (1) sample into a transport bag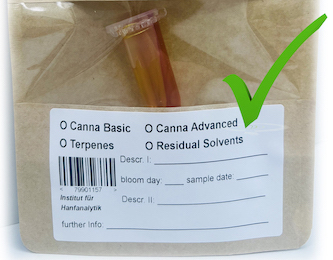 Fill liquid samples (oils, extracts, …) as well as powdered samples (isolates, pollinate) into a 5 ml SafeSeal vial.
---
Do I have to use the barcoded transport bags for sending samples?
Yes, without exception. This ensures a faster assignment of samples and reduces the risk of mix-ups.
---
What happens if I send in samples without your transport bags?
We reserve the right to charge a handling fee of EUR 2.50 for each sample that does not reach us in one of our barcoded transport bags.
---
Which sample materials can I send in?
Plant parts:

flowers, leaves, stems, seeds, pollinate, resin

Liquid samples:

oils, extracts, tinctures, water-solubles, samples dissolved in DMSO, MCT oils, etc.

Beverages:

tea, coffee, energy drinks, beer, gin, vodka, wine, etc.

Cosmetics:

creams, lotions, balms, etc.

Food items:

gums, chocolate, honey, etc.

Other:

isolates, edible oils meeting BfR requirements
Please let us know in advance if one or more of the following ingredients are contained in your sample(s):
sugar
starch
glucose
lime (CaO)
gum arabic
strong acids
strong bases
---
How much material do I have to send in?
Dry plant parts:

at least 2g

Moist plant parts:

at least 6g

Oils, extracts, isolates, tinctures, e-liquids, etc.:

at least 3g or 3ml
To prepare a maximally informative certificate of analysis in our lab, we homogenize the samples; it is, therefore, important that you collect a sample quantity that is as representative as possible of the existing total quantity (e.g. a production batch).
---
As a registered corporate customer, you will find a letter for the analysis order in your customer portal under Info Material. Please use a separate order letter for each sample and also note the minimum sample quantity, which is indicated on the letter. The processing time is approximately 14 days from sample receipt.
If you have not yet secured your access to the customer portal or are not yet a registered customer, please contact us via e-mail.
---
When will I get my certificate of analysis?
After we receive the sample, we will need about 2 to 4 working days for analysis.
---
What does a certificate of analysis of the Institut für Hanfanalytik look like?
Here you can find examples of certificates of analysis:
---
What does M.U. mean?
M.U. is the abbreviation of measurement uncertainty. This parameter describes the statistical dispersion of the values attributed to a measured quantity.
---
Why is my result for isolates >98 %?
Due to the high concentration in this sample material, the measurement uncertainty also increases to ~5%. The actual value may, therefore, deviate by this percentage in both directions. This is why we cannot reliably provide a more exact value than 98%.
---
How do I calculate the T-THC and T-CBD sums?
For the calculation of the equivalent sums, the relevant acid forms are multiplied by the factors 0.877 and 0.878, respectively, in order to deduce the corresponding quantity of the neutral form:
To express the Total CBD (T-CBD) of a sample, we calculate the sum of CBD + 0.877 * CBDA.
To express the Total THC (T-THC) of a sample, we calculate the sum of THC + 0,877 * THCA.
---
Is it possible to modify the terms on my certificate, after I have received it?
Invariably, we do not perform any modifications on certificates of analysis once analysis has been completed. Exceptions are typing errors, transposed numbers, or errors that have, demonstrably, been caused by us.
---
What do the percentages refer to?
The percentages refer to the sample that has been sent in. If the sample is representative of a production batch, the percentage distribution of the contents for the complete production batch may be inferred.
Example A:

10 liters of CBD oil are mixed. A 5 ml sample is sent to the lab. Analysis shows a CBD content of 7.5 % CBD. If the sample has been collected properly, we may conclude that the total of 10 liters CBD oil has a CBD content of 7.5 % CBD.

Example B:

An indoor plantation produces 50 kg of CBD flowers. 30 grams of selected flowers are sent to the lab. Analysis shows a CBD content of 7.5 % CBD. If the sample has been collected properly, we may conclude that the total production of 50 kg flowers has a CBD content of 7.5 % (=3.75 kg).
---
In plants, what is the approximate ratio of CBD to THC?
After several thousand analyses, we have not yet seen a variety with a higher CBD to THC ratio than 33 : 1.
---
How can I make sure that the certificate of analysis has not been forged?
If there is any doubt about the authenticity of one of our certificates of analysis, please send us the scanned document by e-mail. We will contact you and, if necessary, initiate further steps.
---
May I change a certificate of analysis myself?
No, any modification, alteration or reproduction, in parts or as a whole, constitutes an act of falsification of documents according to § 223 StGB (Austrian Criminal Code) and will be reported to the respective authorities.
---
Is the Institut für Hanfanalytik accredited or certified?
The Institut für Hanfanalytik is a laboratory certified according to ISO 9001:2015. The scope of the certification lies in the spezialisation on drug analysis as well as the testing of hemp, CBD and cannabis products. The respective certificate is available for download here. The process to become an accredited testing laboratory according to ÖVE/ÖNORM ISO/IEC 17025 is still ongoing.
---
What will happen if my sample contains more than the legal limit of THC?
Since we are not subject to any reporting obligation, we will dispose of the sample after analysis has been completed and not retain a sample.
---
Which terpenes can you determine?
Our terpene profile includes the following terpenes:
Myrcene
Pinene
Limonene
Citronellol
Linalool
β-Caryophyllene
Caryophyllene-Oxide
α-Humulene
Eucalyptol
Terpinolene
Fenchol
Fenchone
Geraniol
Ocimene
(-)-Guaiol
α-Bisabolol
Nerolidol
α-Cedrene
Pulegone
Geranyl acetate
(+)-Cedrol
α-Terpinene
γ-Terpinene
Camphene
Camphor
para-Cymene
δ-3-Carene
Isopulegol
Isoborneol
Here, we have compiled a detailed overview of the terpenes we are measuring, including a short description.
---
How long does it take to get a terpene certificate?
We need about 5 to 7 working days for terpene analysis.
---
Where do I find my customer number?
The first 3 digits of the barcodes on the transport bags are also your customer number.
---
May I put my oils in their original packaging (including outer carton) in your transport bags?
Of course, in this case we will also make a picture of the outer carton for the certificate of analysis.
---
When printing Certificates of Analysis some characters are not printed correctly resp. there are strange stripes on the printout.
This problem is caused by poor cooperation of the used font and our PDF converter. We are working on this problem. In the meantime please install these TrueTimeFonts (Google Link) on your PC to tackle this problem.
---