How to
---
If you need samples to be analyzed regularly (at least 30 times per year) as to the contents and concentrations of cannabinoids, please contact us via our contact form , e-mail or phone.
In addition, we offer hemp analysis for everyone.
We determine the content of 12 different cannabinoids (CBD, CBDA, Δ8-THC, Δ9-THC, THCA, CBG, CBGA, CBC, CBN, THCV, CBDV, CBDVA) in plant parts, oils, e-liquids, etc. If you purchase one of our CannaCheck-Boxes at the price of one analysis from a specialized retailer, you will find everything you need to send your sample to our lab and receive a certificate of analysis in the box. Once the box has arrived, we will analyze your sample within 4 working days. Your certificate of analysis will then be available online on our homepage. On request, this service can also be performed anonymously.
Our CannaCheck-Box includes:
Transport box for shipping
Instructions for the shipment of your sample
Code card (with a red sticker)
Protective bag, hermetically sealable
Sample vessel (5 ml) for liquid samples
Security sticker to seal your shipment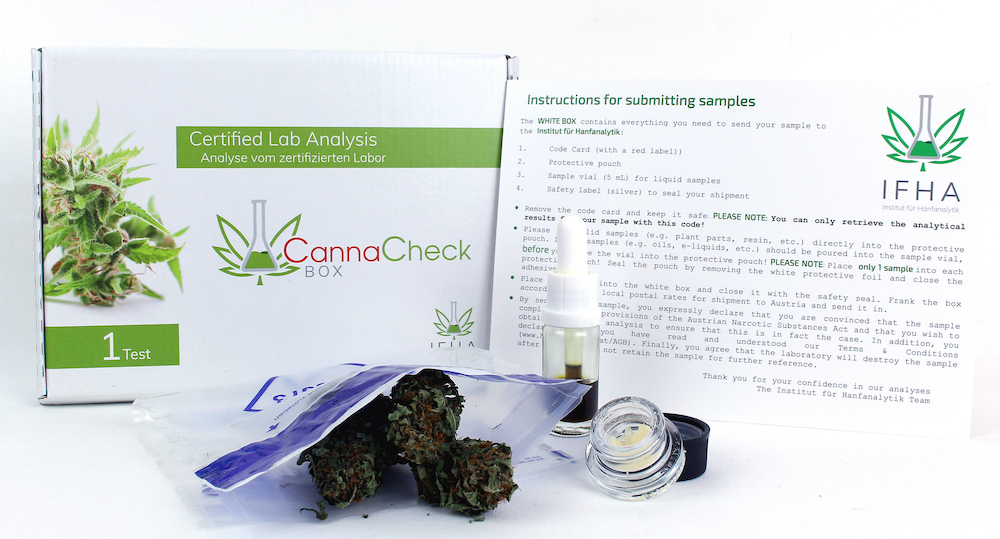 Sending your sample(s) to our lab provides you with the opportunity to check both quality and legality of your plants, a service only available to larger producers and dealers until now.
For all those who would like to have more than one sample analyzed, we offer a CannaCheck-Box for the shipment of 4 samples at the special price of 4 analyses for the price of 3.
Simply follow the enclosed instructions and you will receive a certificate of analysis for your private cultivation.
With us, your sample is in good hands!
Our services are:
Fast

Results are available within 1 to 4 days after receipt of a sample

Reliable

Calibration with certified reference material

Comprehensive

Detection of 12 relevant cannabinoids
(CBD, CBDA, Δ8-THC, Δ9-THC, THCA, CBG, CBGA, CBC, CBN, THCV, CBDV, CBDVA)

Inexpensive

From 39.50 € for professional customers

Convenient

Certificates of analysis available via e-mail or online

Confidential

Your data will not be passed on to third parties

Anonymous

If you purchase one of our transport boxes, your sample(s) will be treated with complete anonymity
You may purchase our CannaCheck-Boxes in specialist shops at these recommended retail prices: #
| | |
| --- | --- |
| CannaCheck-Box for 1 analysis | 109,00 € |
| CannaCheck-Box for 4 analyses | 327,00 € |
You will find our CannaCheck-Boxes for example at:
If you are interested in selling our CannaCheck-Boxes retail, please register under Retailer/Company